Anthony Jones is one of the few remaining photographers who still looks for the beauty in everyday objects and places, who looks for the abstract in the concrete and captures images that have the flavour of urban life. In an age of digital, he still holds steady the tiller of silver based photography and the elegant beauty of images created with a critical eye looking for the innate beauty and design in everyday life.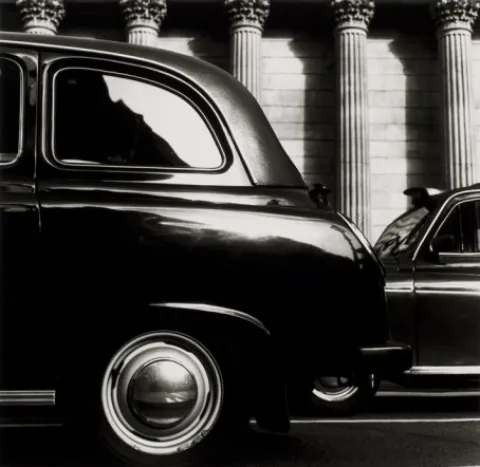 Anthony Jones, London Taxis, 1998. One of fourteen photographs donated by London- based photographer Anthony Jones, that will appear in our upcoming benefit auction.
It's not fashionable but it is classical and though bigger, brighter and more colourful images are in vogue now, like the fads of the past they will seem old before their time and the classic modernist work of Anthony will still seem relevant, significant and beautiful.
Working in black and white with a medium format camera, Anthony walks the streets of his native London looking for momentary juxtaposition of disparate objects creating a pattern that only black and white can reproduce. His image of a London taxi in front of the Bank of England holds both the motion and constant change of urban life and the solidity of tradition and steadfastness.
His work has the flavour of Paul Strand's images of New York in the 1930s and of Bill Brandt's London work a decade later. Anthony's work comes from a long tradition of the lone photographer, walking the streets with his eyes open to the moment when balance occurs and an image can be made.
His work does not speak of today or yesterday or tomorrow. Instead they speak of the abstract patterns created by the momentary conjunction of objects and places in the modern metropolis. His images are quiet reflections in the midst of a noisy city. His images both define and belie the facts of modern urban life.
Editor's Note:  Look for more in our 2011 Benefit Auction blog series leading up to the big event October 3rd.